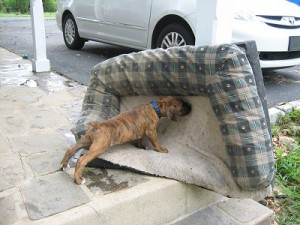 This is insane.  I yell- "No dogs on the couch- no dogs in your Rooms!" My kids don't listen.  Every night I walk by, and see the dogs on their beds! I give UP. So this morning, 7am, I hear my eldest talking to one of the dogs, "BAD DOG! What is WRONG with you? You are REALLY a BAD DOG!"  I wake up, of course, and pretend like I'm NOT hearing this… she peaks her head into my room and says, "Mom?  Sammy peed on my Bed!" GREAT WAY to start the day.  First thing I say, of course is, "Didn't I TELL you, NO DOGS in your ROOMS?!!" (like that should make me Feel better.) 
We then vinegared, oxycleaned, paper toweled, and soaked up whatever we could, to the point where later in the day, even I was thinking it was a miracle, that we didn't need to toss the bed! No fuss- no muss? I got this licked, and screw you, Mr. Doggie?
It's 9:55 PM, and my daughter says, as she's sitting on her bed, "I smell PEE!" I look at her, like I want to put HER out in the trash- and say,"NO…You Dont. It is a figment of your imagination. I SCRUBBED that bed! There's NO WAY."  I walked over to the bed, and put my nose down to the mattress and sniffed.   I smelled Urine.  I wanted to SCREAM! Instead I said to all of them, "YOU- the other kid, need to give back your queen bed to Lacey, and I'll buy another Twin for YOU."  This of course started World War 10, with the, "why do I have to, when SHE did this …" 
So here I am, sitting and writing to YOU, about the fact that I'm so aggravated that I have to spend $300 on a new bed, even though I told them all – not to let the dogs in their rooms! There is DEFINATELY somthing WRONG with this picture!  They are all just LOOKING at me! Three kids and two dogs, are STARING at me! I'm such a sucker.