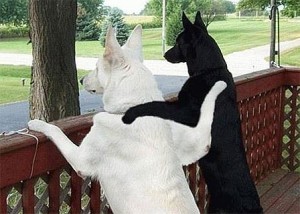 …but what's REALLY scary is when we realize it was US, that was out of control all along, and not the DOG!
I have blocked off rooms, to keep the dogs out, for YEARS. I blame it on, them eating or chewing things, allergies, disruption, WHATEVER.
I now have moved to a new home. We have a two story house, where we've always lived in a ranch… the dogs didn't know what stairs WERE! They now have a conquest! Climb those stairs and get to our master! At the same time, I'm trying to 'out think' them– I've put boxes in front of my office, closed the bedroom doors, tried to block off the steps, and on and on….
I'm sitting here writing on FB, and I look to my right, and there's the white dog.  Sleeping on the floor right beside me!  He's quiet, harmless, and I'm NOT SNEEZING! How he got in? I dunno…but the bottom line is, I made more out of it, than I should have.  He knows it, I know it, and now YOU know it.  I ADMIT it, ok???
They win. I'm fine.