Dallas, Tx May 14th, 2015
My Mom taught me to say "please and thank you."
She did a good job because I'm saying it to you. "Thank you all for your support."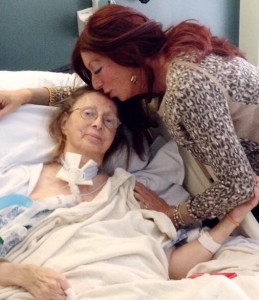 It's certainly been a rocky day.
After being gone for 10 days while working from a closet sized studio with barking dogs, but they were under the same roof with all my kids that I miss so much… so I dealt with it… and then – coming home to my blessed bed last night, getting "the call"
at 6am
saying, "you're mom just passed away," … I'd like to fill those of you in, on what happens next, if ever you find yourself in that situation. If you are the only next of kin, the spotlight is on You, so you don't have time for grieving. You must:
1. Forget about unpacking your 10 days worth of clothes while thinking you'll need to pack again in a day.
2. You'll need closure, you make calls to the institution your parent had been staying in- over and over again, because you're in shock- and there's always one more thing you forgot to ask!
"How did it happen? Was she sleeping? Was it something I asked you to do that may have been the catalyst for her death? Did she feel anything? How long can I leave her there, legally speaking?"
3. You'll try to find the will to find her will. What did she want? Burial? Cremation?
4. You'll realize there is no will, there's only a way. YOUR way. You need to choose, and you Do.
5. Call a list of funeral homes and do comparison shopping. OMG it's true. One place charges $5K for cremation and 2-two hour visitation blocks, while another charges half of that and gives you the joint for the whole day! The thought process is borderline insanity; "if they give it all for half-price it can't be the best place? Right?" So you keep calling other establishments until you realize it's a racket more often than not.
6. You find the right place because the stranger on the other end of the phone makes you feel like "they GET you!" They offer empathy, not sympathy. There's a remarkable difference between the two, while going through this madness. You pay to have your parent made into ashes or filled with formaldehyde.
7. You pick your time slot for people to come see each other in a funeral parlor, who more than likely haven't seen You in 30+ years! The conversations prematurely start playing in your head; "My goodness! You got OLD!" How many times I kicked myself today just knowing I'd say the wrong thing most of the time, in that 3 hour window.
8. You make phone calls from your parents hand written phone book to the same people you've already had those imaginary conversations with! Who in their right mind would choose a funeral home with a name they can't pronounce? Me. I had to keep looking at the website to phonetically read it on every phone call.
9. It would be nice if you and your family could make it to this shebang, so you need to book flights to get there! In my case I needed to book 6 people in 3 different states. I have trouble booking my Own flights (an ADD issue) let alone close to a basketball team? To coordinate everyone's flight to try and arrive and depart at the same time makes you forget about your lost parent in a hurry. In fact, you wind up talking to yourself the more frustrated you become: "you died on purpose, didn't you – Just to put me through all of this aggravation! Admit it, Mom!"
10. Damn it? I just realized I forgot to book a van!
11. Gone is the phrase "room," … You now need to book a "Wing" of a hotel to house everyone.
12. You must find their significant other! This should have been written as #1, but it Was the first thing I tried to do but I couldn't find him, all day! I kept calling and calling… This man has lived with her for what feels like a zillion years, and when he finally DID call, saying he was on his way to see her I had to tell him to turn around, she wasn't there anymore. THAT went over well?
13. You'll be almost ready for bed after this day of hell when you'll remember: "Shit! I forgot to write her obituary!" This is not your blog-type writing; this is structure. You must pull from your days of learning cursive and coming home to show your mom, and hoping she'll be proud of your work!…. And then it all starts to sink in.
14. The Facebook 'dings' you've been hearing all day, …you decide that it might be a good way to unwind and so you go and face the music. "I'm so sorry for your loss,"… "Please accept my condolences," and you realize if your friends are talking about this… then it must be true. You've really lost your mom, and it's not just in a parking lot filled with cars; you've lost her, for good.
15. You feel that weight on your chest and in your heart. If you're a Type-A kinda' person you now understand that, "No, we can't fix everything. No, even with our capes and pixie dust, we can't bring her back.
16. You'll feel like we're six again. We wonder when we'll Ever grow up. The old radio joke is no longer funny as we say it, because it's not about "not being able to grow up if you're in the radio industry because ya' can't do Both- it's about the fact we've spent our whole lives seeking praise from our parents, and now we know, … no one will ever tell us again, "how Proud they are of us!"
Were on our own.
Finally I went upstairs at the end of the night and saw that I've still not unpacked from that 10 day trip, and decided to look for a different suitcase instead, but I heard my mom's voice,
"Robin? Do you think those clothes are gonna' unpack themselves? Didn't I teach you to always look back at the room you were just in, and make sure it looks exactly the same when you leave it?"
And then you hear the words inside your head, escape your lips, "but Mom…??"
In memory of my mom, Elayne.
Love to you all,
Robin