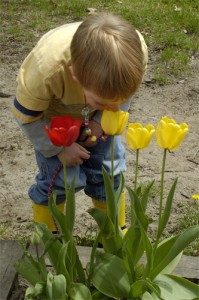 Apparently, our moms did something RIGHT!  No matter what side of the tracks we're from, there's one thing I've noticed that we all seem to have in common:  We've learned to NOT pick someone else's Tulips!
Have you seen the strip malls, and your neighbor's garden lately? All the tulips stand tall and proud!  No stems undressed! Like little soldiers all in a row! Nobody picks someone else's Tulips! Do you remember your mom telling you to keep your hands off of other people's flowers?  I do?
In a world filled with drugs, sex, unlawful acts, misguiding celebrities, words that aren't filtered, parents that don't do the right job with bullying, uncaring politicians, and an economy that's hit the 'bottom line'… we still know better, than to pick someone else's tulips.  It's a sign of decency in an undecent world.  It offers Hope. Promise. Guidance for the next generation!
Something that simple, … it shows us that we CAN keep our hands to ourselves!  We CAN keep things neat and in order.  We CAN respect our neighbor! It also offers beauty and elegance in a sometimes ugly and jumbled place. 
Stop- and look at the tulips.  They're special,  they're great symbolic teachers!  Make sure you thank your Mom!  She did GOOD!